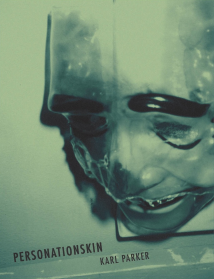 PERSONATIONSKIN
by Karl Parker (
No Tell Books
)
$17
ISBN: 978-0-578-01872-0
136 Pages
What People are Saying about PERSONATIONSKIN:
Hilarity in the vault! A man without a face and an ever-shifting position on things: sheer terror and comedy follow where "everywhere, divides."
—Fanny Howe
To read Karl Parker's poems is to revel in the tremendous reach of a mind that, more than any other I've read (more than John Clare, more than Khlebnikov or Kharms or Huerta) can render me awed at the realization that we, each of us, have a person inside our skins with us. Parker enacts this phenomenological remembering with such a wit and lyricism, and such a grief, that I believe him likely one of the smartest, saddest, funniest writers alive. He is without doubt one of my favorite writers. I have been following his work for years. And so will people for years to come.
—Gabriel Gudding
Karl Parker's
PERSONATIONSKIN
makes for a strange and auspicious debut. The self in these poems tries on and discards one skin after another while Rome burns in the background—his fiddling indistinguishable from the burning. Joyous and agonized bodies dance through the funhouse, leaving sticky-note poems on distorting mirrors to mark their circular progress: "peel back the skin, back to the everything, the pale tenderest fleshpetal, where we are reeling still." A broken umbrella in the face of major weather, a map of a landscape in which the difference is spreading: poems to make your flesh creep, to make you feel alive.
—Joshua Corey